If you are planning your first trip once restrictions allow, there's a lot to think about for your pet, whether they're staying home or packing their suitcase too!
From perfect summer breaks to winter va-cat-ions, with the right planning any holiday can go smoothly for you and your four-legged friend. Here are our top tips to consider from Cat and Dog Adoption Officers Matt and Lisa.
To take or not to take?
First things first, you need to decide if bringing your pet on holiday is right for them. For cats, we would generally advise that they will be happier and safer left at home with a trusted sitter, in the environment they are used to. In certain situations, such as if you have a regular holiday home which you want to visit often, and if your cat has become used to travelling from a young age, this can be worked around. Consider your cat's personality and make the right choice for them.
Many dogs will love the opportunity to come on holiday with you, be it a UK staycation or further afield. But again, think about your dog's individual character – if they are nervous of new environments, they might feel more comfortable at home too. While short journeys can be a good part of kitten and puppy development and training, we would not advise planning a holiday while your pet is younger than six months old, or if they have been with you for less than six months if adopted as an adult.
Staying home
Both dogs and cats will cope better while you are on your holiday if they are in familiar surroundings. You can ask your local vet to recommend a trusted pet-sitter in your area to look after your four-legged friend in your home; or if you have family or friends you and your pet trust, that can be even better. If you are using a pet-sitter, or if a neighbour is popping in to care for your pet, it's a good idea to have them over to your home beforehand to start building a relationship.
Catteries and kennels are the alternative if pet-sitting really isn't an option. Pay a visit to make sure you like the facilities and staff and are happy to leave your pet there. Cats and dogs will need to be fully vaccinated, including for kennel cough for dogs, and it's a good idea to flea and worm beforehand as well.
Cats and dogs should always stay on the same food and feeding routines, so you should provide supplies and information to the cattery or kennel, or to the people caring for your pet at home. For cats staying at home, pheromone plug-ins are a great tool to use in preparation and during your time away to keep them extra calm – we like Feliway or Pet Remedy.
We're all going on a summer holiday
When travelling together, you'll want to think about the destination carefully: a brachycephalic dog such as a pug is unlikely to appreciate a Mediterranean temperature, while a thin-coated Dobermann would need a suitable jacket before joining your alpine trip.
Think about how the change in environment will affect your dog. If they are used to rural life, a city break where they may see lots more dogs and strangers might be a shock to the system, and you will need a plan for managing that. Make sure that not just your accommodation but the activities and locations you will visit are pet-friendly. And find out where the local vet is, save their phone number and note if they are open for emergencies 24 hours a day.
Check that your pet insurance will still be valid if you are going abroad and speak to your vet to understand what vaccinations or other preparation is needed, particularly if heading overseas. It's a good idea to update your pet's tag with the details of your holiday home or hotel just in case they go missing.
Are we there yet?
Once you've planned and are ready to go, it's time to make the journey itself comfortable and stress-free for your four-legged companion. If flying, call the airline to see if your pet can travel with you in the cabin – cargo environments can be stressful, with low temperatures, which we would strongly advise against. If you are taking a ferry, never leave your pet in the car unattended. Check the rules for pets travelling with you on deck or in your cabin.
Driving is the safest and most comfortable option. Cats will need a large, oversized carrier that they are used to travelling in. For crate-trained dogs who see it as their safe space, using their crate in the car might be a good option; otherwise, buy a secure dog harness that can attach itself to a seatbelt. They will need to wear this even if they sit with a human (which can be good for keeping them calm!).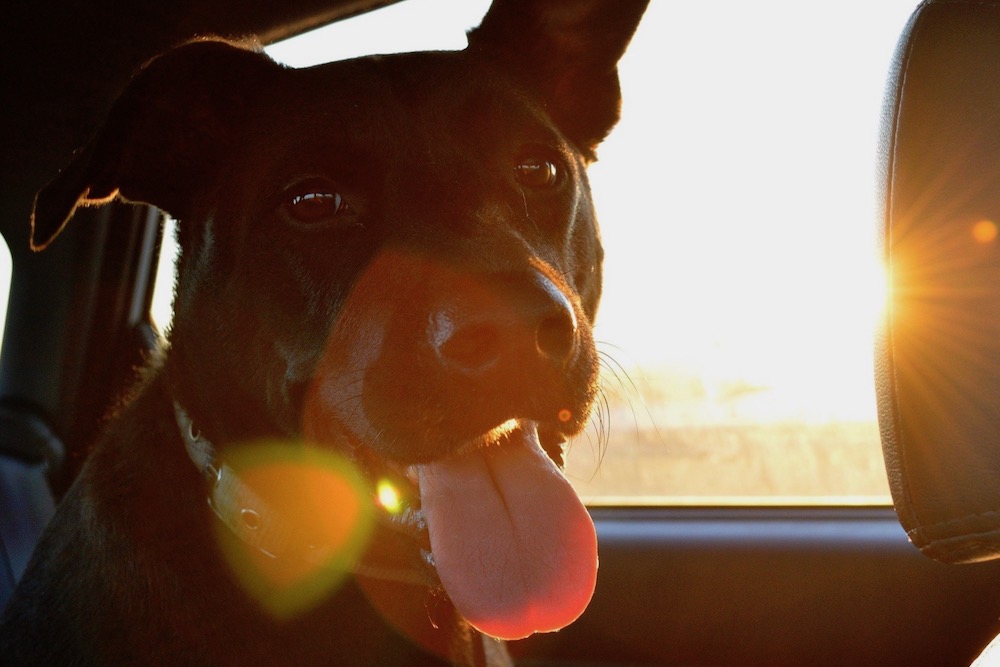 Make sure your pet has had a long walk or roam around before setting off. Pack fresh water for the journey, as well as some treats, toys or food in a slow-feed dispenser to keep them entertained. Factor in toilet and rest stops and be very mindful of the car's temperature getting too warm. Remember: dogs die in hot cars, so never leave them alone in a car on a warm day, even for just a few minutes.
Bon voyage
Finally – you've arrived at your holiday destination! The next couple of days are all about settling your pet in, doing some final safety checks and relaxing into your break. Even if your pet is used to being left alone, we advise spending the first days with them as they adapt to their surroundings. Make a plan for the times you will need to leave them alone – they might not be as calm as they are at home. Bringing their bed from home, familiar toys and treats will help them feel comfortable.
Walk around the gardens or grounds, looking out for any ponds, gaps in fencing or areas where your pet may be able to dig out. If you do decide to let your dog off the lead, don't leave them unattended. We wouldn't advise letting cats outside at all unless it is a familiar second home where you are spending several weeks at a time.
Once you and your pet are happy, try to keep to your home routine in terms of walks and mealtimes, and it's a good idea to bring enough cat or dog food for the whole trip. Now you can relax and enjoy making well-deserved happy memories!
Travelling abroad with your pet after Brexit
You can no longer use a pet passport issued in England, Wales or Scotland for travel to an EU country or Northern Ireland. You can, however, still use a pet passport that has been issued in an EU country or Northern Ireland as normal.
An EU-issued passport or Animal Health Certificate (AHC) is now required for travel to the EU and Northern Ireland. Travel outside the EU requires an Export Health Certificate (EHC). Please discuss your pet's travel at the earliest opportunity with a veterinary surgeon with Official Vet status, who will be able to advise on the requirements and issue the relevant paperwork if appropriate.
See gov.uk/taking-your-pet-abroad for further information.